Be part of a team of committed volunteers who are passionate about making a difference
At SickKids Foundation, our volunteer positions are meaningful and gratifying. Volunteers help us tackle a lot including assisting in a variety of special events, supporting us on administrative work and with short and longer term projects. Most of all though, our volunteers greatly contribute to making every kid a healthy kid.
GetLoud | September 29, 2018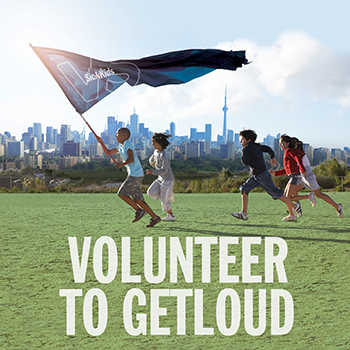 SickKids is looking for volunteers to help support our brand new fundraising event called GetLoud happening September 29th, 2018. GetLoud is a march, capped by a festival celebration. It's families, friends, colleagues, and supporters rallying for SickKids.
GetLoud volunteers will aid in several aspects of GetLoud including event-day support and fundraising to help build a new SickKids. We're looking for 400 volunteers to support the event and help our participants march, rally and celebrate at GetLoud.


For event information or to register as a volunteer please visit GetLoudforSickKids.ca.


Questions:
We are happy to help! Please give us a shout at 416-572-1670 or send an email to volunteers@GetLoudforSickKids.ca
Be a Patient Ambassador and share your fight
Join our league of over 300 patients and families whose lives involve SickKids and have chosen to become Patient Ambassadors. It's a great way to move from defense to offense in the fight for healthier children. We are always looking for current patients to tell their stories through a variety of ways including print, web, TV and radio media as well as speaking at public and media events. All stories are appreciated and will be read. If we think that we'll be able to involve you in the ambassador program we'll be in touch and we'll let you know more about how it works. Your story will not be shared publicly without your consent.
Here's how to learn more about the Patient Ambassador Program:
Fill out our form to raise your hand.
Your family will participate in a face-to-face or telephone meeting during which time we can learn more about your SickKids story.
A one-page summary of your SickKids story will be written and shared with you and the main staff member involved in your care to ensure accuracy.
You will always be asked in advance for consent to share the approved profile.
Community Event Volunteer Opportunities
Please check back regularly for updates on community event volunteer opportunities with SickKids Foundation.
Our Volunteers are Vital
Whether you volunteer to join SickKids Foundation, The Hospital for Sick Children, or the Women's Auxiliary of SickKids, you'll be backing one of the world's most important health-care facilities.
Interested in volunteering for SickKids Foundation?
SickKids VS: Undeniable
At SickKids, we're not on the sidelines, we're on the front line. Taking the fight to the greatest challenges in child health. And we are winning.