From Fearing Food to Fighting It: One SickKids Scientist's Story
For most kids, the question "What do I want to be when I grow up?" takes years to answer. Not Lisa Hung. She's wanted to become a food allergy scientist since elementary school—and she's never wavered.

"From childhood to now, it's been one streamlined decision," Lisa says.

That's because Lisa is severely allergic to milk and peanuts. At six months old, she had her first reaction. Since then, she's been hospitalized more than 20 times. So, Lisa knows what it's like to live in fear of food. But she also knows the other, subtler ways food allergy affects a kid's life.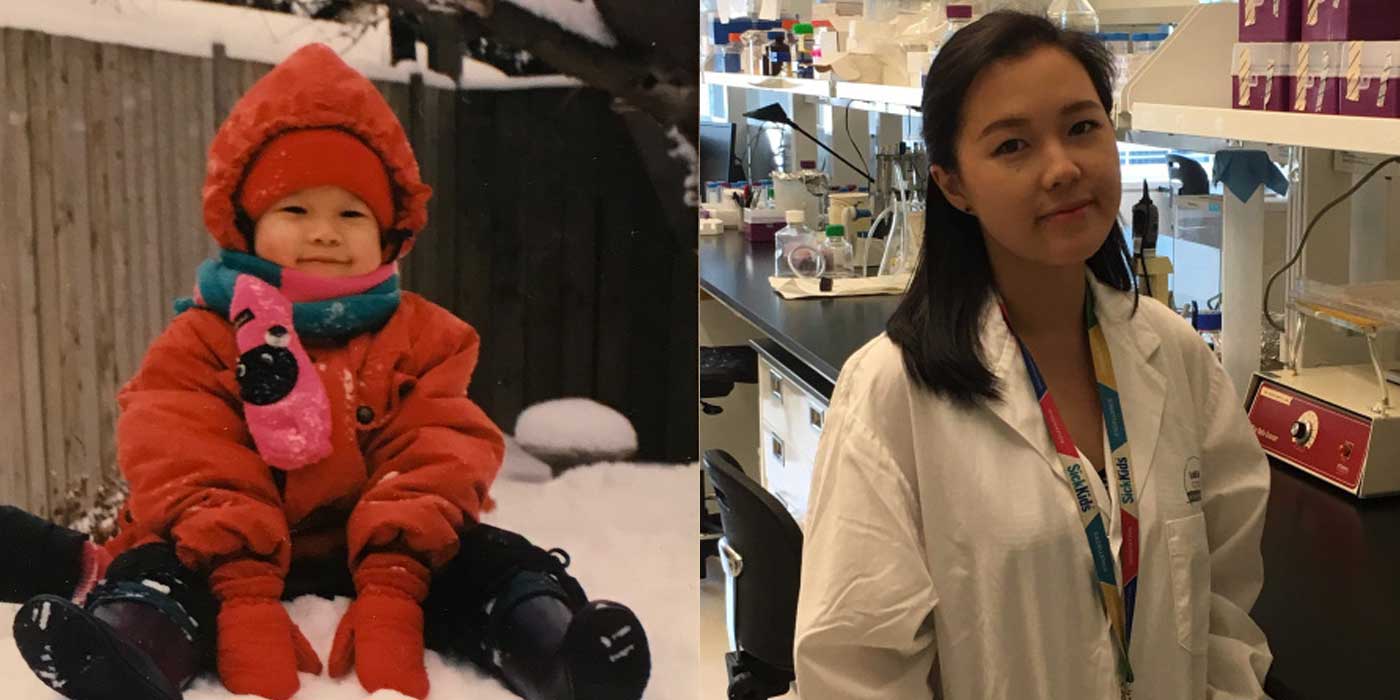 Photo caption: (Left) Lisa Hung as a child, (Right) Lisa Hung now working towards her PhD
"Food is such a conduit for social connection," Lisa says. "And because as a
food allergic child, you don't experience it in the same way, you can feel very ostracized, and that can be very damaging for your mental health."

For all those reasons, Lisa chose to fight back—with science.

Today, as part of her thesis project, she's working inside Dr. Thomas Eiwegger's allergy research lab on a gut slice model of food allergy. Generated from human intestinal tissue, this model responds in real-time to relevant allergens like peanuts. Researchers are then able to use this model to study the mechanics of allergic reactions and test potential treatments.
---
"

Food is such a conduit for social connection"
"We can actually see a response after we add the allergen in," Lisa says. "And because it comes from a person, the results are more relevant and directly translatable."

For her work on the gut slice model, Lisa was awarded a four-year Restracomp scholarship ($26,000 a year) from the Research Institute in 2018—a career highlight.

"The people in charge of distributing these awards are SickKids researchers,"
Lisa says. "So they know exactly what we're doing and how important it is."

Lisa has also receive a number of additional accolades, including the SickKids Exceptional Trainee Award in 2020, and the Sabrina Shannon Memorial Award in 2018 from Food Allergy Canada for raising awareness about life-threatening food allergies.

Once Lisa finishes her PhD, she's hoping to do post-doctorate work, preferably in one of SickKids collaborating labs. From there, she's not entirely sure where she'll land. But she is sure of this: She's going to stay in food allergy research, forever.