Since 1875, SickKids has been leading the fight for kids' health.
1875 - The Hospital for Sick Children opens its doors.
Mrs. Elizabeth McMaster knew that something had to be done – in the 50 years previous to 1875, almost half of recorded deaths in Toronto were those of children under 10. Compassionate of heart and clear of eye, Mrs. McMaster (in concert with a group of equally forward-thinking women) opened a hospital on rented premises 'for the admission and treatment of all sick children', regardless of their financial condition. Strength of character and six iron cots formed the foundation of the noble enterprise that was to become The Hospital for Sick Children.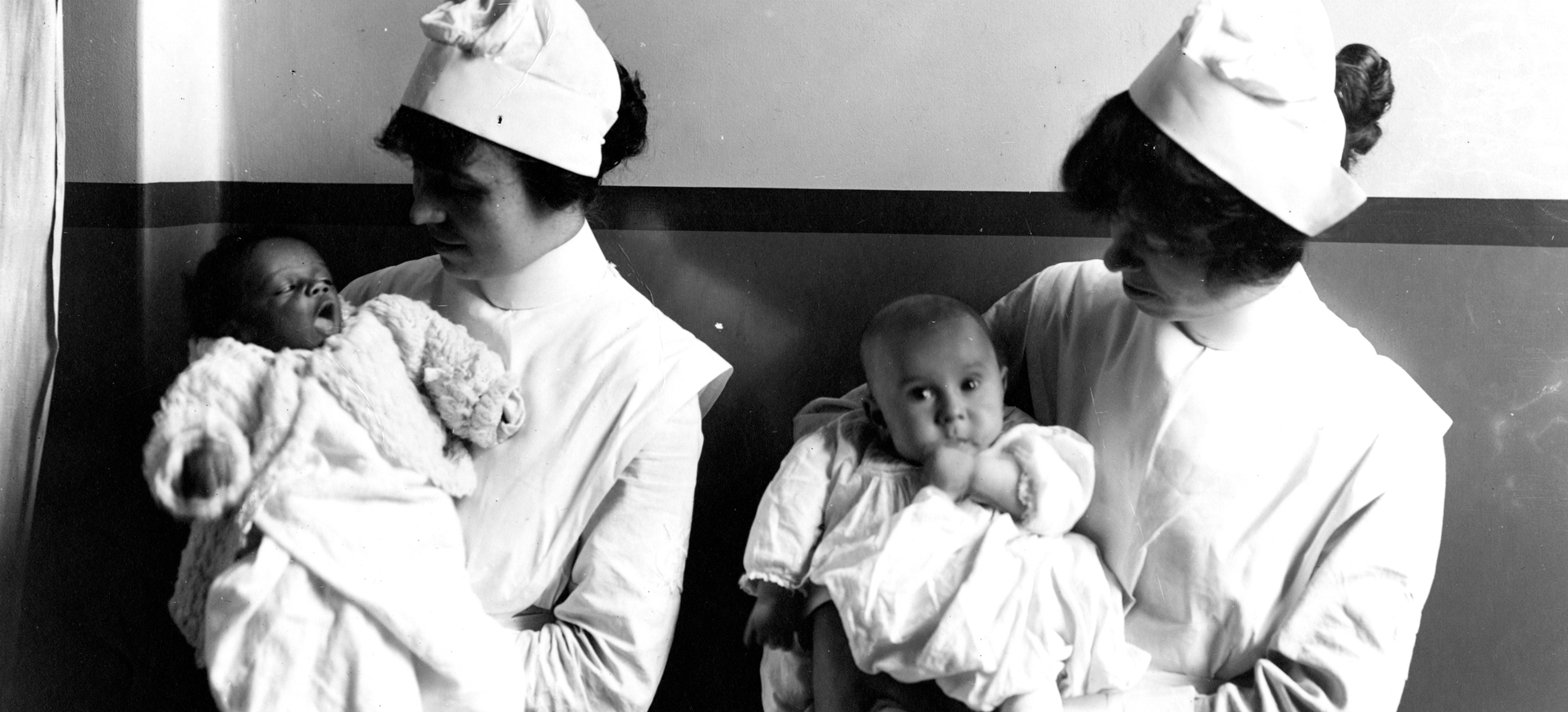 1892 - From 16 beds to 320.
A genuine metropolis – as bustling Toronto was fast becoming – was in need of a more suitable children's hospital. With John Ross Robertson, publisher of the Evening Telegram, at the helm of the Hospital's Board of Trustees, the Hospital assumed a new premises: an airy, four-storey edifice on College St with room for 320 beds, designed on the most up-to-date principles for the promotion of health.


1908 - The first Canadian milk pasteurization plant.
A new century had no need of an old scourge. And typhoid was undoubtedly an old scourge. Dr. Louis Pasteur had made the famous discovery – that heating killed germs – in 1862. The forward-thinking Hospital staff insisted that a milk pasteurization plant be installed onsite, to prevent the spread of disease through contaminated milk, 30 years before pasteurization became mandatory across the Dominion.
1920 - The Hospital for Sick Children pioneers blood transfusion for children.
Dr. Karl Landsteiner of Vienna solved the mystery of blood compatibility in 1900 – it came in 4 main groups that had to be matched based on type. However, it was not until the horrors of the Great War that doctors were able to discern how to successfully preserve, store, and transfuse blood. Based on their harrowing experiences treating battlefield trauma, a group of brilliant young physicians were eager to apply the life-saving techniques learned in the trenches to Toronto's children.
---
In 2015, SickKids celebrated its 140th birthday.
1930 - Researchers at the Hospital for Sick Children invent Pablum.
The twenties may have roared, but still – from outport to farm to town – infant malnutrition menaced bassinets. Pablum, the low-cost, quick-to-prepare, nutrient-enriched cereal was the Hospital's miracle solution to infant malnutrition. Another of Canada's gifts to the world.
1954 - Research Institute established at The Hospital for Sick Children.
After the Second World War, the time had come to focus on innovation to tackle the unique challenges of children's health here at home. The Research Institute was the first of its kind at SickKids and, to this day, it remains the largest child-based health research institute in Canada.

1957 - Groundbreaking surgery to repair congenital dislocation of the hips.
Dr. Robert Salter, preeminent surgeon at The Hospital for Sick Children, pioneered a surgical technique that would allow children to stand and walk normally. Dr. Salter's innovative work in the area of orthopaedic surgery, disorders and injuries of the musculoskeletal system, revolutionized the way joint injuries are treated around the world.

1963 - Cardiac surgery to correct 'blue babies'.
In 1963, Dr. William Mustard made one of his many outstanding contributions in cardiac surgery for children: devising an ingenious and effective operation to obtain total correction of transposition of the great vessels – a heart condition that was common and fatal. This procedure is now referred to throughout the surgical world as the 'Mustard Procedure'. Breakthroughs like these served the Hospital's growing reputation well. Around town, and across the province, the Hospital became affectionately known as 'SickKids' – based on a track record of success and dedication to the health of children everywhere.

1968 - The PICU opened at SickKids, one of the first in North America.
As the space race surged in the '60s, so too did the commitment and resolve of SickKids, which clearly emerged as an international leader in the race to save young lives with the opening of The Paediatric ICU.
1972 - SickKids Foundation, the fundraising arm of the Hospital, is established.
Sideburns and bell bottoms were the style of the day. The needs of the Hospital in the early '70s were changing alongside the fashion on the street. SickKids was still striving to solve the ongoing challenges associated with children's health. Many conditions had been conquered, but the Hospital was facing increasingly complex challenges. There was a clear need to establish a viable fundraising arm for the Hospital. Since 1972, SickKids Foundation (and its 232,000 donors) has been the largest charitable funder of child health research in Canada. The generosity and support of private and public donors has led to the many additional breakthroughs in the years that followed.
1976 - Canada's 1st bone marrow transplant program begins.
A patient needs healthy bone marrow in order to counter the detrimental effects of chemotherapy and radiation treatment for cancer. With this invaluable pioneering treatment, SickKids doctors have helped countless young patients achieve long, cancer-free lives.
1989 - Dr. Lap-Chee Tsui & team discover the cystic fibrosis gene.
This world-beating discovery was achieved as the direct result of pure research. This research would not have been possible without SickKids donors. Suddenly, we had the key to the most common fatal genetic disease in Canadian kids. From here, life-extending genetically-based treatments were a possibility.
2009 - World's first cardiac surgery in utero.
Saving kids who have not been born – a milestone in SickKids fight against congenital heart disease.
2013 - Peter Gilgan Centre for Research and Learning opens.
The SickKids Research Institute was spread out across six sites. Today, 2000 members – in 237 active labs – are assembled under one roof, in a building expressly designed for the kind of interdisciplinary cross-pollination that has a transformative impact on kids' health. The PGCRL is 21 storeys of ideas, learning, and innovation. And SickKids' endorsement of the 21st century paradigm: brilliant thinkers, thinking together.
2014 - North America's 1st incisionless bone tumour surgery.
The possibility of removing cancerous tumours in bone without aid of a scalpel would have boggled even the most astute medical minds at the time of SickKids' founding. SickKids and Sunnybrook Health Sciences Centre's surgeons first performed incisionless surgery in the CIGITI suite, using MRI and focussed ultrasound.
2015 and beyond - What's next for SickKids.
In 2015, SickKids celebrated its 140th birthday. That's 140 years of fighting for children's health. We're winning – by pushing the envelope of what's possible in child health care, research and learning in Canada. Today, SickKids is thinking beyond the walls of the Hospital, and acting globally. Whether it's training nurses in Ghana, improving cancer care for children in the Caribbean, or bringing children to The Hospital for Sick Children for procedures not available in their home country through the Herbie Fund, SickKids is realizing its vision: Healthier Children. A Better World.™
2017 - SickKids launches historic fundraising campaign.
In 2017, SickKids launched the biggest fundraising campaign in Canadian health care history, the SickKids VS Limits Campaign, with an ambitious goal of $1.3 billion. It will support three key elements: re-imagining the SickKids campus, including building a new patient care centre on University Avenue; continuing breakthrough paediatric health research; and establishing partnerships for better, coordinated patient care.
2018 – SickKids named #1 in research intensity.
SickKids 2,000+ scientists and researchers continue to break barriers. SickKids is named Canada's Most Research-Intensive Hospital by Research Infosource. From utilizing artificial intelligence to uncovering the genetics of cancer, SickKids Research Institute remains a leader in new clinical and scientific advances.
2019 – A new SickKids will rise.
In May, the Hospital for Sick Children announced Dr. Ronald Cohn as its new President and CEO. Formerly SickKids Paediatrician-in-Chief, Dr. Cohn brings with him a bold new strategic plan that will shift the Hospital from a one-size-fits-all approach to individualized care tailored to each patient's unique characteristics, from their genetic code to their postal code. In June, SickKids received a $100-million gift from the Peter Gilgan Foundation, the single largest gift in SickKids history. This transformative donation will support our next phase, the patient care tower, a state-of-the-art facility that will house our critical and inpatient units.
In October 2020, SickKids breaks ground on the first phase of its campus redevelopment, the Patient Support Centre, a new 22-storey education, training and administrative hub, expected to open in late 2022.