We're Taking Fear of Food Off the Table
The Challenge
For the nearly 500,000 kids with a food allergy in Canada, every day can bring a new challenge. Birthday parties are worry-making. Eating lunch at school is a source of anxiety. Every mislabeled snack carries the risk of a severe reaction. To stay safe, kids and their families must remain vigilant—checking labels, avoiding foods, quizzing restaurants about ingredients. Worse still, the epidemic of food allergy continues to grow.

Why SickKids
Since the launch of the Food Allergy and Anaphylaxis Program in 2013, we've taken a two-pronged approach to fighting food allergy. The first is basic science, a means to better understanding the biology of food allergy. (In one study, our scientists use allergenized gut slices to better understand the mechanics of food allergy, as well as test potential treatments—without putting a child at risk.) The second is clinical trials, where we test treatments like oral immunotherapy, including variations that make it easier—and safer—to implement.

Our Vision
One allergy treatment is unlikely to be a perfect fit for everyone. Our goal is to match each unique individual with the most personalized treatment for their condition. Our research and clinical program encompasses many approaches for addressing food allergies, including:
Studying better diagnostic tests and using clinics to confirm allergies;
Improving our ability to know how severe an allergy may be so that we can tailor our advice and treatments;
Studying anaphylaxis to understand risk factors and patterns;
Investigating multiple treatments, which include single foods, multiple foods and different doses or ways of taking doses;
Studying approaches with and without medications;
Studying oral immunotherapy (to help increase the amount of an allergen that can be safely ingested) and other food allergy immunotherapy approaches to find safer and less medically intensive approaches;
Providing education about food allergy prevention, diagnosis and management;
Collaborating with experts around the world and helping to lead national and international allergy organizations and societies.
Your Impact
We've already made major strides in the fight against food allergy, and we're poised to go much, much further. But to see less fear of food everywhere, we need your help to expand the Food Allergy and Anaphylaxis Program.
Join us in creating a world where no child lives in fear of food. Donate today.
Your support will enable more groundbreaking research. And more research means more treatments—with fewer kids living in fear. Your support will also provide allergy patients and families with certain tests, allergen samples and food challenge costs that are not covered by public health insurance.
Taking Fear Out of Food for Kids Like Layla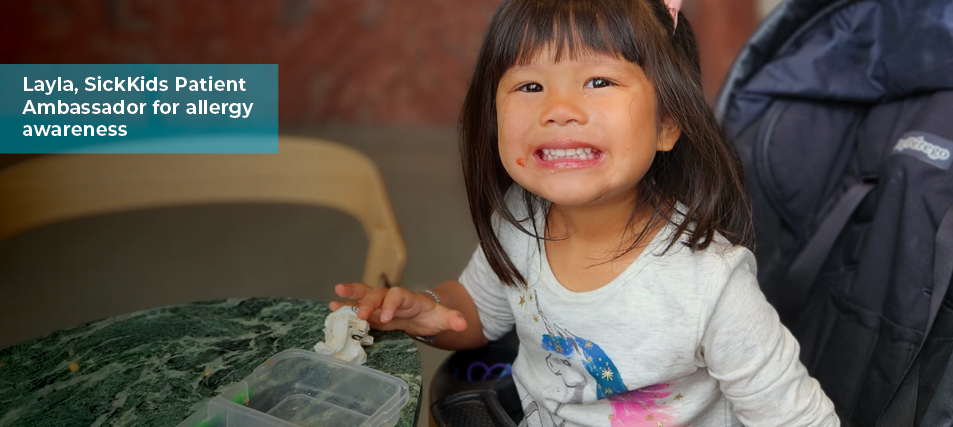 Ask any parent or caregiver: the first time their child has a severe reaction to a food, it is imprinted in their mind for the rest of their life. The same is true for Tina, whose daughter, Layla, was only eight months old when they took a flight for their first family vacation.
Trouble started on the trip home. A bit of Tina's meal accidentally splattered onto Layla's face, and the little girl's cheek became extremely inflamed. She went into distress. The airline crew considered an emergency landing, but an on-call doctor available by phone provided crucial guidance. Upon landing, paramedics treated Layla and said she had suffered a severe allergic reaction.
Following some additional scares as Layla grew older, Tina heard about Dr. Julia Upton's low-dose multi-allergen oral immunotherapy study, which exposes children to very low amounts of their allergens under careful supervision to gradually build up a tolerance. Tina felt optimistic when she learned that her daughter would qualify. Together, Dr. Upton and Tina hope to help Layla become tolerant of accidental exposure to allergens and take the fear out of food for her entire family.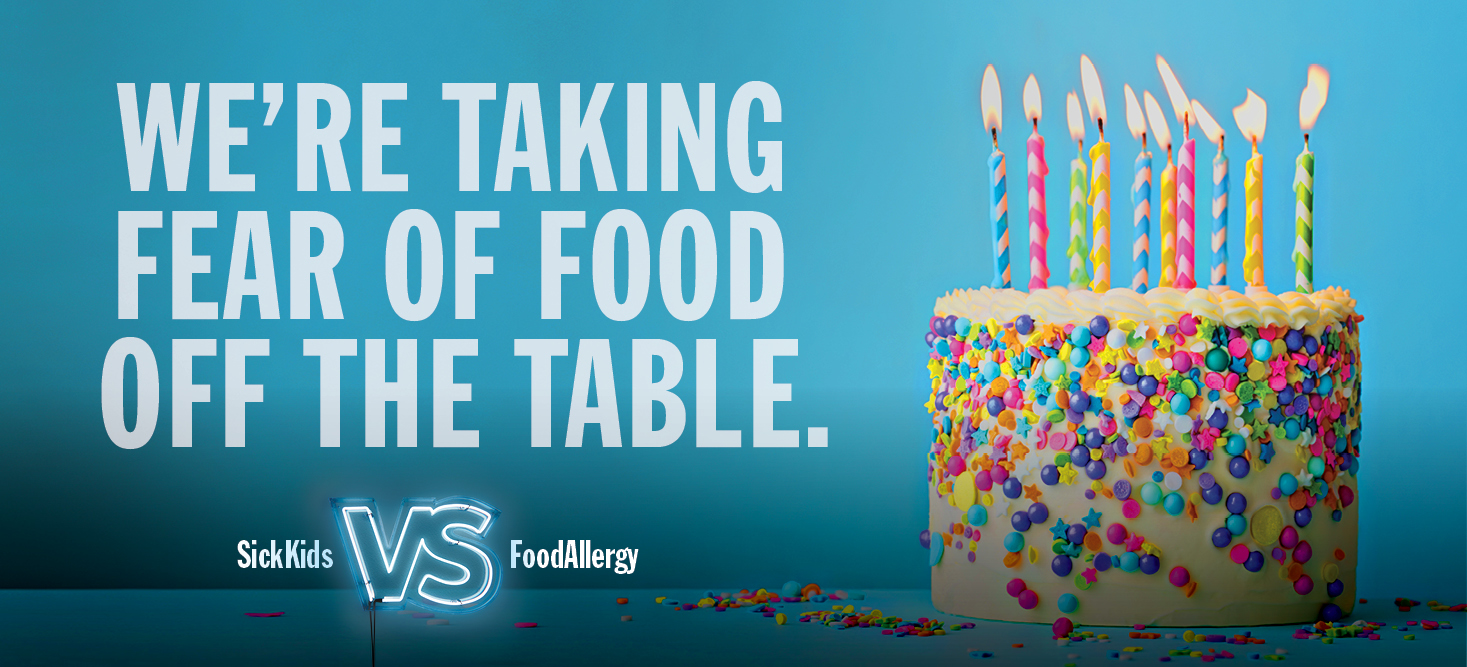 SickKids VS FoodAllergy
SickKids asked parents and children to share their experiences with severe food allergies. Here's what they had to say.