Kael's School Adventure at SickKids
GUEST BLOG: Emily, mom to SickKids kid Kael

The excitement of the new school year is in the air. Students are excited to meet their teachers and reunite with their friends. Parents are exhausted from all the shopping; new shoes, new backpacks, new clothes. But for patients at SickKids, back to school is bittersweet; it is a reminder they are in the midst of health issues, and yet a welcome reprieve from the daily grind hospital life brings.

My son, Kael, was one of those kids who missed out on back to school, in the traditional sense, while being cared for at SickKids. But, thankfully, during his time in hospital, he was still able to learn thanks to the Toronto District School Board teachers program that was available.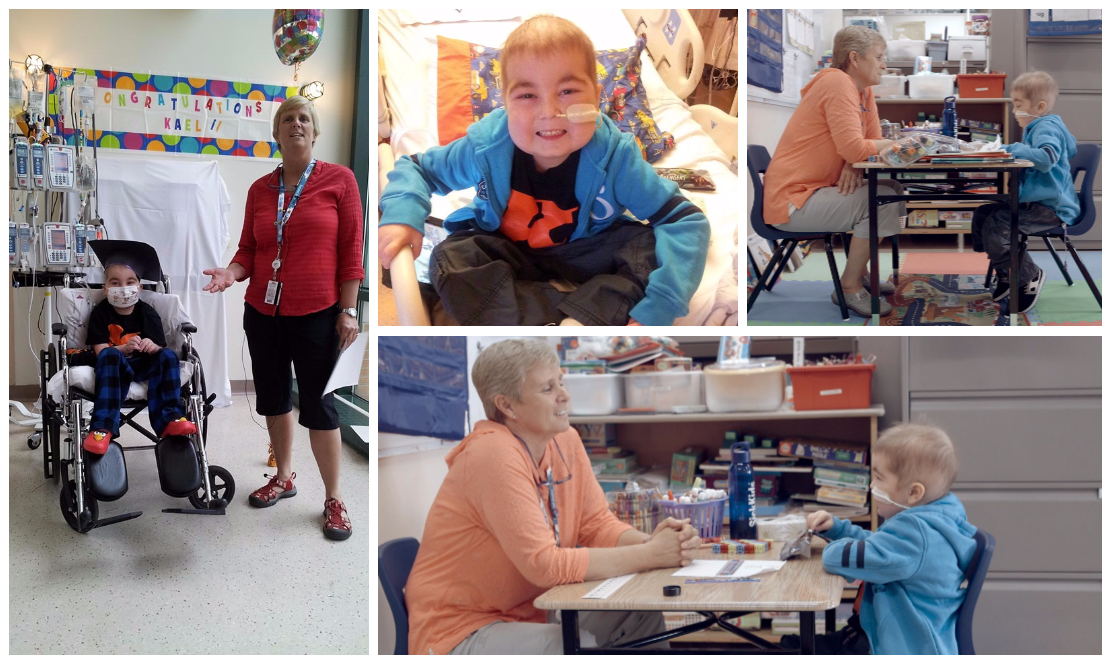 During our time at SickKids, Kael experienced school in a number of ways. First, he was schooled from his bed in reverse isolation on the Bone Marrow Transplant Unit. Every item brought in had to be carefully cleaned and sanitized before he could touch it. His teacher had to thoroughly wash up and gown up before she could enter. School became the connection to the outside world that he longed to re-enter. He struggled through lessons and homework, while his health was taking a downward spiral, but he never refused a session. Most days he wore only pajamas and could barely sit up. He welcomed the distraction and the company. It was early in this journey that Kael bonded with his teacher, Kathy, and not a day went by that didn't have him asking when she was coming. She worked on the basics, trying to keep him caught up to his peers in Grade 1. On bad days, she would simply read to him, using the stories to work on connections or language skills.

The second phase of school found him learning from his bedside, but out of reverse isolation. This meant he was feeling well enough to participate in more challenging activities, complete more hands-on experiments and interact with more people, though still not in a full classroom setting. Kathy was an amazing teacher, continually finding new ways to engage Kael in his lessons. She regularly tailored the lessons to his ability and interests, being adaptable and flexible to unexpected situations. These days, too, were completed in pajamas from his bed but now he was able to sit up for longer periods of time. Kathy encouraged more writing and drawing by Kael, to work on his fine motor skills. Lessons were more challenging, as he was slightly behind his peers and needed to catch up. He was often frustrated with himself for not being able to do simple tasks like write a sentence, but Kathy encouraged him to keep trying and found easier ways for him to communicate besides writing.


---
"During school at SickKids, the focus shifts from a patient's health to their learning journey. That shift in focus played an important role in Kael's recovery."
The third phase of his education found him out of isolation learning from a combination of his bedside and the small classroom on the seventh floor. When he was well enough, and not confined to his room, he would travel to the classroom for his lessons, which made him feel more like a normal kid and less like a patient. School was always a good distraction from his health issues, but having to learn from bed meant he was unwell. Once he could leave his room he opted to go to the classroom every chance he got. This simple option made a huge impact on his emotional health – it reaffirmed that he was progressing. These lessons were even more challenging then Phase Two. Now he could participate in larger experiments and projects, learn from guest speakers (like Adrianne from Kids Science), and sometimes go on expeditions outside of the hospital to learn about nature in the gardens. He looked forward to this type of schooling the most even though he was wheelchair bound and usually connected to an IV pole. Finally, he was well enough to both wear clothes and want to wear clothes. He may not have gotten new shoes or a new backpack, but the grin he wore on his first day of Grade 2 was huge.

Learning is an important aspect of life and a journey that should never end. Being sick and needing to be hospitalized is difficult on children both physically and emotionally. School offers a sense of routine that children yearn for. It is one aspect of their day where they can be like every other child their age. During school at SickKids, the focus shifts from a patient's health to their learning journey. That shift in focus played an important role in Kael's recovery, as he needed the intellectual stimulation to keep him emotionally stable. Besides the obvious benefit of keeping him on track, the one-on-one learning allowed Kael to learn at his own pace, delve into topics he found interesting and sail through areas he understood the first time. This little bit of control helped him build back all of his self-confidence, which had been severally damaged from his loss of physical abilities. For one hour every day, school allowed Kael to escape the reality of being an 'ill' child; an hour to focus on something else besides his health, how he was feeling and how unhappy he was.

When I asked him what his favourite part about school at SickKids was, he said "All of it". He remembers the day he learned about dry ice, and the days his teacher took him to the classroom. He speaks fondly of Kathy because she was more than just a teacher. She became his mentor. A trusted confidante whom he could confide in, ask questions of, make requests to or just relax with. He respected her – as a person, a teacher, a nurse and a world traveler.

On a practical level, though, on-site school keeps the kids as on-track as they can while recovering in the hospital. Unfortunately we know all too well that things don't always go as planned. For us, a 4-6 week recovery turned into 52 weeks, with 8 more weeks in the city. Without the on-site school, Kael would have been two years behind when he finally was able to return to his classroom with his friends. There was no way that we (his parents) could have handled the added stress of his education on top of everything else that we were dealing with. It was a relief knowing that school was an option. It also allowed us 1 hour every day to eat, use the facilities, go for a walk, talk to the medical team, or just generally take a break.

I can't imagine how emotionally challenging it would have been to have finally brought him home but have to send him to school so far behind his peers. He struggled with self-esteem and simple tasks like writing were difficult. He already had to relearn how to walk, move and eat. But having to relearn all of that AND know that your friends were two grades ahead of you would have felt like an insurmountable mountain. Our experience with school at SickKids was positive and, in our opinion, priceless. We can't repay the benefits we've seen and experienced with this program and specifically, Kathy. The SickKids teachers go above and beyond the call of 'teaching' and impact the lives of students every day. They have to watch little people go from good to bad to worse and keep plugging onwards like nothing has changed. They must have invisible iron armor and hearts of gold! We are eternally grateful for their valiant efforts.