May is Cystic Fibrosis Awareness Month
As one of Canada's most research-intensive hospitals, ground-breaking medical discoveries are woven into the history of The Hospital for Sick Children (SickKids). This year, SickKids is celebrating one of the most significant breakthroughs in human genetics over the past 50 years. 2019 marks the 30th anniversary of Dr. Lap-Chee Tsui and his team of researchers discovering the cystic fibrosis transmembrane conductance regulator gene (CFTR), identified as the first disease-causing gene in 1989. This was one of the most important developments in the history of human genetics.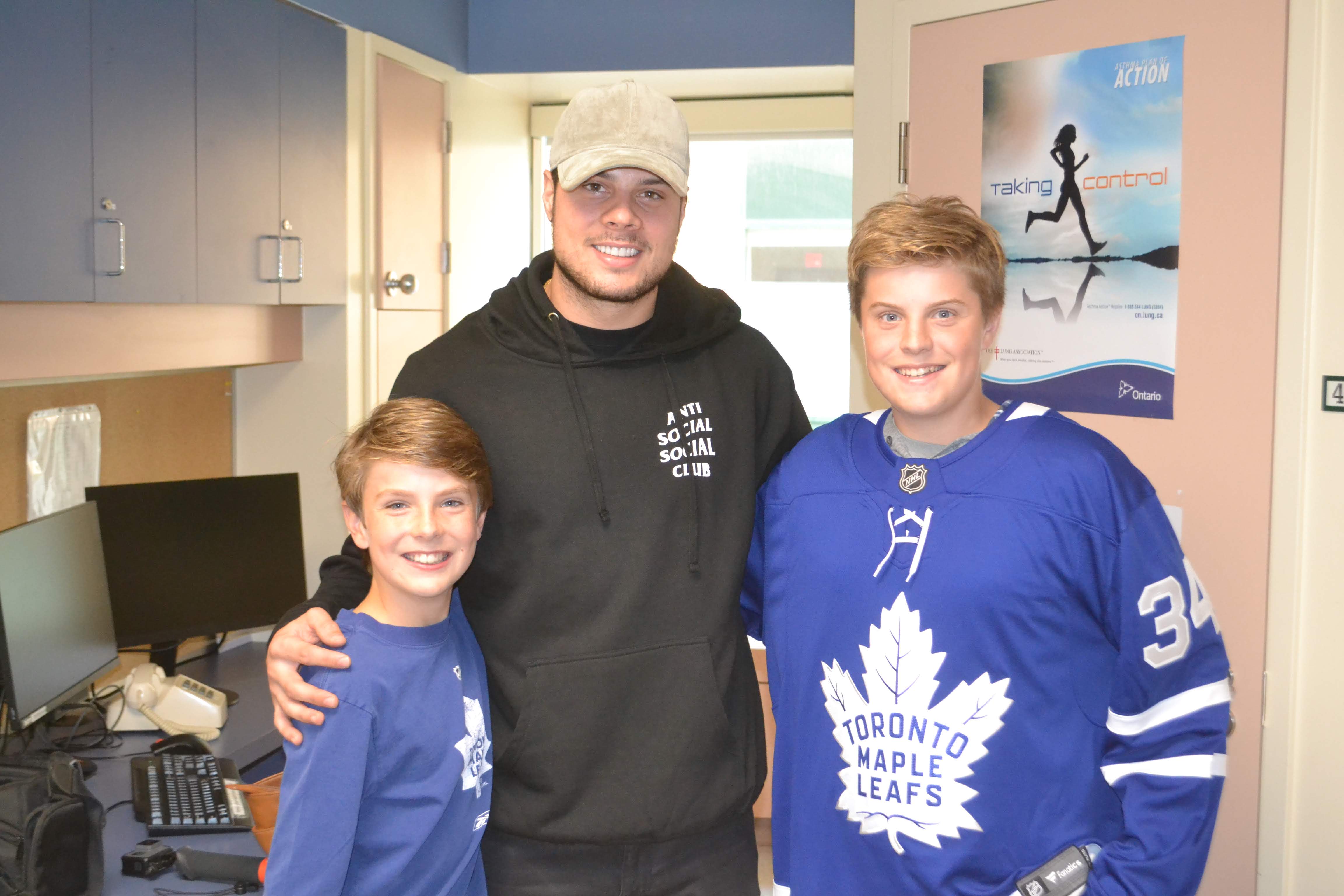 Photo caption: Auston Matthews visits Mackenzie (right) at SickKids Hospital.

Breakthrough research into the CTFR gene and its mutations spurred the development of individualized cystic fibrosis (CF) medicine, through initiatives like Cystic Fibrosis Individualized Therapy (CFIT) program. A joint partnership between SickKids and Cystic Fibrosis Canada, the CFIT program gives researchers at SickKids the ability to test the effectiveness of both existing drug combinations and new emerging compounds to determine which future treatments work best for specific individuals. With more than 2,000 different CF gene mutations, each person's CF journey is different which makes the CFIT program essential in developing tailoured treatment regimens
---
"One of my goals as a CF patient is to be one of the first, if not the first, major league baseball players with CF."
CF patients who have benefitted from the advances in individualized therapies include 13 year-old Mackenzie (Mac) Robertson, who was diagnosed with CF when he was 18 months-old. Mac's CF journey began after his mother, Tania, noticed that he was constantly coughing and when she kissed him on the cheek, it tasted salty. Diagnostic tests at their local hospital and SickKids confirmed Mac had CF.
Mac began his treatment protocol. He had 4-6 mask treatments a day. That entailed breathing through a face mask or mouthpiece which was attached to a piece of equipment called a resistor. Pressure builds up in the lungs, opens the airways and allows air to get to the characteristic thick, sticky mucus, allowing it to be cleared. In addition to the mask treatments he performed a couple of hours of chest physiotherapy, daily, and he needed to take approximately 20 pills a day, not an easy feat for an 18-month old toddler. His parents would put pills into applesauce which he'd swallow.
Mac later joined the CFIT program, and was prescribed Kalydeco, a medication effective for patients with a specific CF gene mutation. Since going on Kalydeco, managing his CF has simplified and his symptoms have improved although he still takes approximately 30 pills a day.
CF has not prevented Mac from pursuing his sports passions, baseball and hockey. CF also led him to meet one of his idols, Maple Leafs superstar Auston Matthews.
The Matthews family has their own personal connection with CF. Auston's uncle, Bill, (the person who took Auston to see his very first professional hockey game) lived with CF until his death in his early 30's. His life story and legacy has inspired Auston, who decided to honour his late uncle by becoming involved at SickKids. Since signing with the Leafs, Auston has made countless quiet personal visits to CF patients at SickKids.
For patients like Mac, Auston's visits are unforgettable. "Auston was amazing. It was very cool to meet someone I idolize so much. He was such a nice guy," Mac said. "He's so easy to talk to and even if he wasn't a famous professional athlete, I would still be his friend. I remember taking pictures together and just talking about everyday things with him. I was simply amazed just being in his presence. I'm very thankful for his contributions and how he has brought more public attention to CF."
Although tremendous progress has been made in CF research and treatment options, there is still no cure for the disease. So, raising awareness of CF is also a priority for Mac, who has big dreams. "One of my goals as a CF patient is to be one of the first, if not the first, major league baseball players with CF," Mac explained. "I hope one day CF gets cured and we can figure out how to stop this disease."
When asked about SickKids, Mac quickly replied "thank you to literally everyone who works there. I'm so grateful that the people at SickKids are knowledgeable about my disease and have researched how best to treat it. You all help so much in the medical field and more importantly in kids' lives."
You can make a difference for a patient living with CF by donation to: www.sickkidsfoundation.com/cysticfibrosis