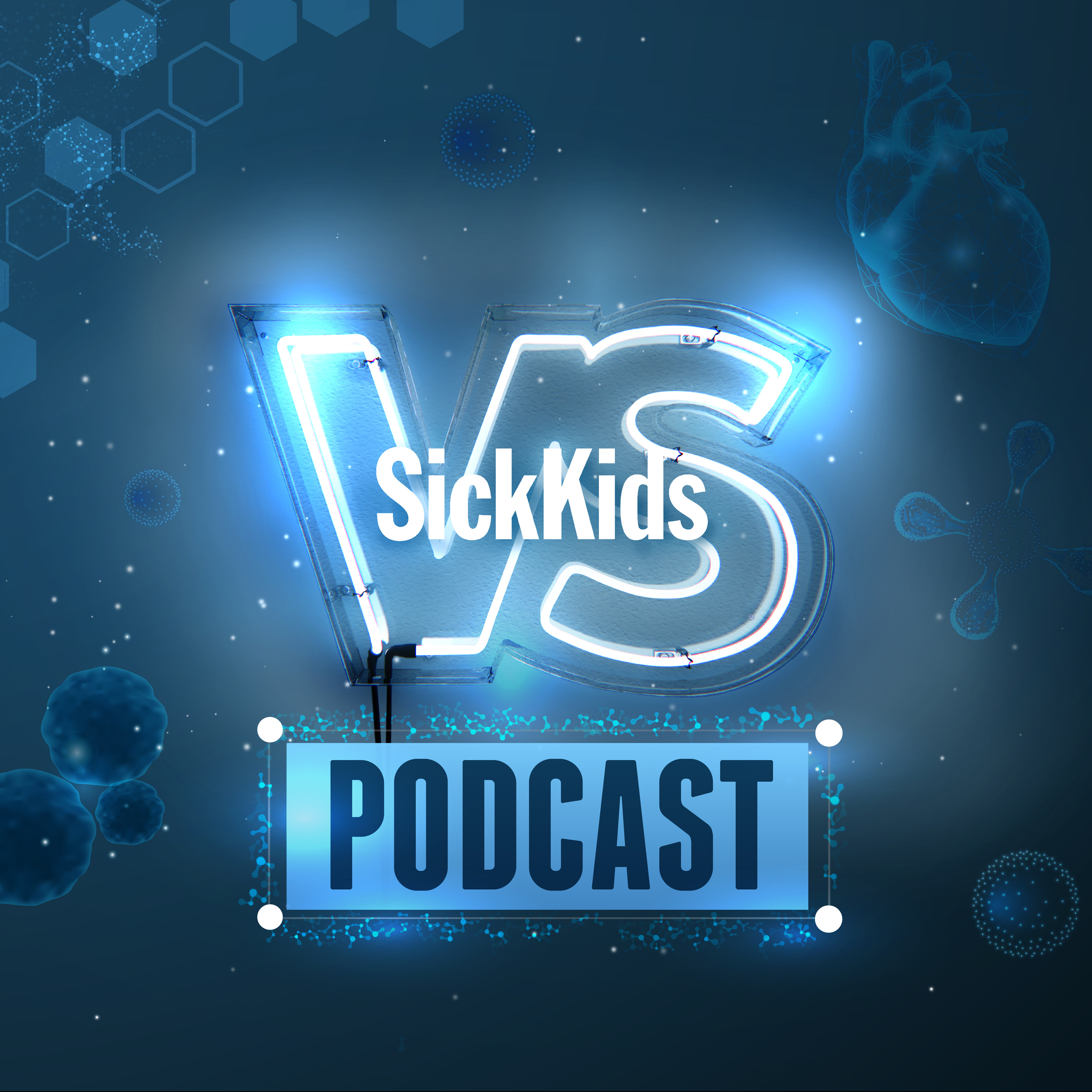 SickKids VS Podcast Season 2
---
SickKids VS takes you to the frontlines in the fight for child health. From supermolecules engineered to stop COVID-19 to gene-editing tools that may cure rare diseases, each episode tells the story of a different breakthrough, revealing all the hope and heartache on the road to discovery.
TRAILER: SEASON 2 - 3D-printed hearts to help surgeons practice. Supermolecules to stop COVID-19. Cures for aggressive, hard-to-treat cancers. And much, much more. Welcome to Season 2 of SickKids VS, beginning April 15. Listen now: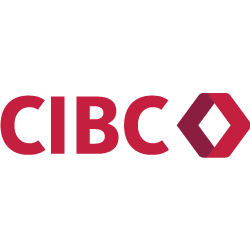 We're proud to recognize CIBC as the Premier Sponsor of the SickKids VS Podcast.
EPISODE 1: SUDDEN CARDIAC DEATH - In 1990, 20-year-old rower Heather Cartwright was at the peak of her athletic powers. But as she crossed the finish line during a race that summer, she collapsed and nearly died. The cause? Arrhythmogenic right-ventricle cardiomyopathy, or ARVC—a rare, hereditary disease that can cause sudden cardiac death. Many die not knowing they have it. But thanks to SickKids researchers—and supporters like Heather and her family—a new test can detect this often-invisible disease.
EPISODE 2: PANDEMICS AND PATHOGENS - For years, SickKids scientist Dr. Jean-Philippe Julien toiled in his lab, harnessing the power of human antibodies to try and neutralize two of the world's deadliest diseases: HIV/AIDS and malaria. Then, COVID-19 hit, wreaking havoc across the globe. Very quickly, Dr. Julien pivoted, leveraging what he learned to pursue a new mission: making an antibody supermolecule to neutralize SARS-CoV-2, the virus behind COVID-19. If successful, it could radically reshape the way we approach diseases like COVID-19 and malaria—before the next pandemic hits.
EPISODE 3: DUCHENNE - EDITING DNA TO CURE DISEASE - First, Gavriel's muscles got weaker. Then, he lost the ability to walk. From there, things will only get worse. The cause is Duchenne Muscular Dystrophy, a genetic disorder with no cure. But that might soon change. Using CRISPR, a state-of-the-art gene-editing tool, SickKids scientists were able to correct the disease-causing mutation in mice. The result? Improved muscle strength and function—and no signs of paralysis. Now, they're refining their approach, so they can take this treatment out of the lab and into the world.
EPISODE 4: FOOD ALLERGY - Ryan is severely allergic to peanuts. Like, hives-blossoming, throat-closing, get-me-epinephrine-now kind of allergic. But as part of a clinical trial at SickKids, which could change the course of allergy treatment, he now eats a tiny dose of the stuff every night. That's because peanuts—the very food that could kill him—might also be the key to protecting him.
EPISODE 5: CANCER GENETICS - Baby Izaan was in trouble. Despite multiple rounds of chemotherapy, his tumour continued to grow, and time was running out. Izaan's oncologist, Dr. David Malkin, enrolled him in KiCS: The SickKids Cancer Sequencing Program. The hope? That by analyzing the tumour's DNA, they could figure out how to stop it.
EPISODE 6: SURGICAL MORTALITY - In surgery, practice makes perfect. But for surgeons operating on tiny hearts with rare defects, that kind of experience can take decades. So, SickKids cardiac radiologist Dr. Shi-Joon Yoo devised a novel solution to speed things up: 3D-printed hearts. What began in a rented office has since blossomed into a fast-growing program, attracting surgeons from around the world to SickKids for expert-led, hands-on surgical training.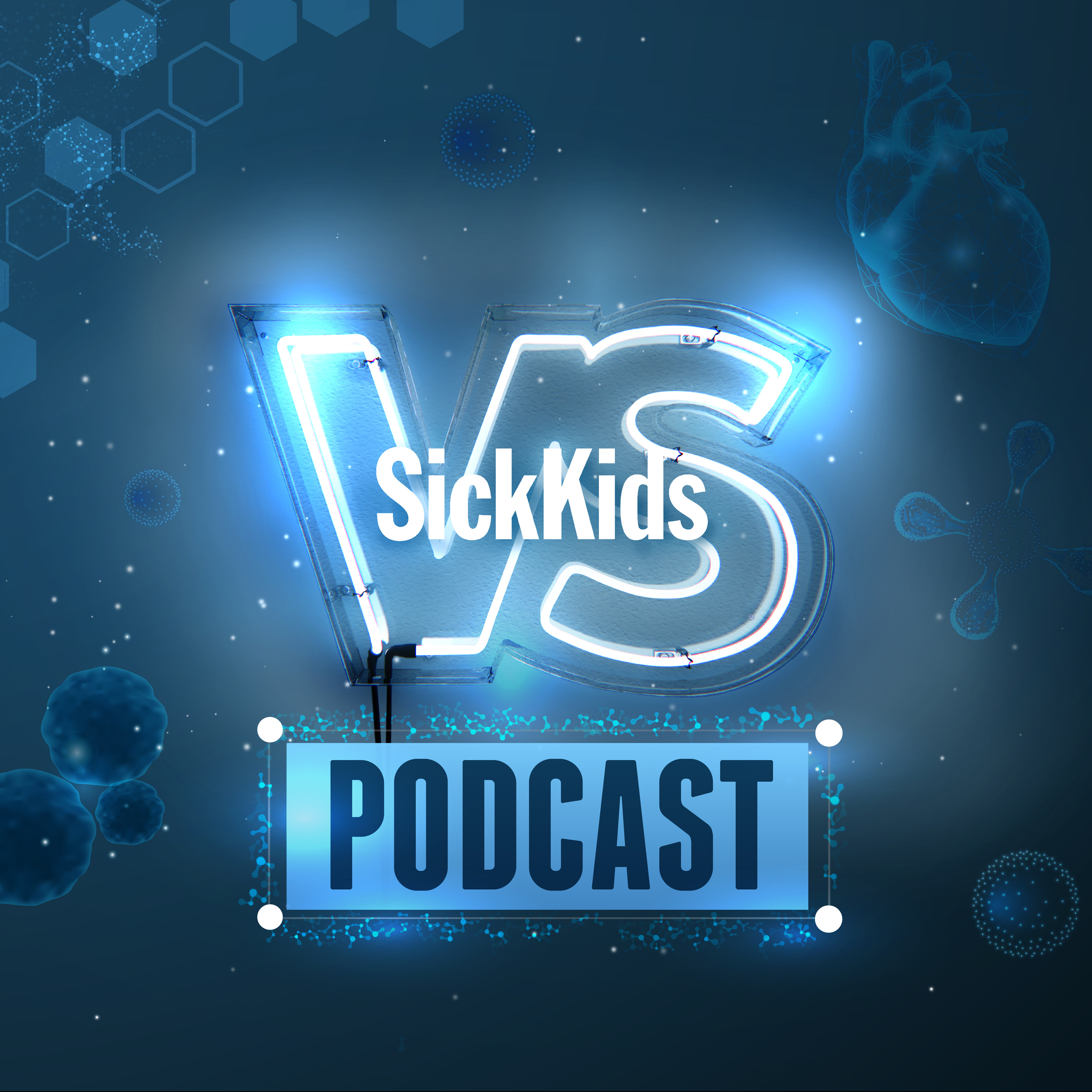 SickKids VS Podcast Season 1
---
SickKids VS takes you to the frontlines in the fight for child health. From wonder drugs that treat hypermutant tumours to machines that keep hearts beating outside the body, each episode tells the story of a different breakthrough, revealing all the hope and heartache on the tumultuous road to discovery.
EPISODE 1: BROKEN HEARTS - Fifty kids in Canada are waitlisted for a new heart each year. Of those, 30 to 35 will get one. Others continue waiting. But SickKids surgeon Dr. Osami Honjo thinks he has a solution. A way to expand the donor pool by keeping hearts beating outside the body. He calls it the Heart in a Box.
EPISODE 2: HYPERMUTANT TUMOURS - SickKids  has discovered a way to treat patients with drugs that unleash the power of the immune system. It's called immunotherapy. And it's the closest thing we've found to a cure.
EPISODE 3: SEIZURES - Andi was having up to 200 seizures a day. It was unbearable—for her and her family. Nothing seemed to help. Until they met Dr. George Ibrahim at SickKids. He wanted to try something radical, a treatment which had never been used on a child in Canada: deep brain stimulation
EPISODE 4: BORDERS - Ten years ago, paediatric care in Ghana was nearly non-existent. There were few paediatricians, and even fewer paediatric nurses. Because of that, children died - many before their fifth birthday. So, SickKids started a nurse training program. Now, ten years later, the change is unmistakable.
EPISODE 5: CYSTIC FIBROSIS - In the 1950s, most kids with cystic fibrosis died in childhood. Today, things are a lot different. One SickKids patient, Mac Robertson, isn't just surviving, he's thriving. He's a strong, six-foot teenager. He plays elite baseball. And, some days, he forgets he even has it. So, how'd we get here? And what does SickKids have to do with it?
EPISODE 6: CARDIAC ARREST - When cardiac arrest strikes, it's dangerous, even deadly. But what if we could see it coming? What if we could turn patient data into a predictive tool? A SickKids ICU doctor and computer scientist are figuring out a way to do just that - with artificial intelligence
EPISODE 7: COVID-19 - Dr. Upton Allen, Chief of Infectious Diseases at SickKids, talks about how COVID-19 affects children, why scientists got it so wrong, and his research to better understand the virus and prep for a vaccine.