SickKids Innovators Q&A: Elke Rubach
What brought you to SickKids? How did you learn about the Innovators Program?
Fortunately, none of my kids have been admitted to SickKids. My connection with the hospital started when I attended a Breakfast of Champions for SickKids event. It inspired me, so I became a volunteer. I quickly realized the harsh reality that although young, I was less young than the average volunteer there (by a lot!). This realization made me think about how best I could contribute, which led to me venturing out with a friend to launch Fashion Heals for SickKids.

From there, I met Colin Hennigar, who told me about the Innovators Program. I love the concept and feel every project that is presented is simply fascinating! There isn't a "bad" project. The vote night is fun, and the events are just as engaging.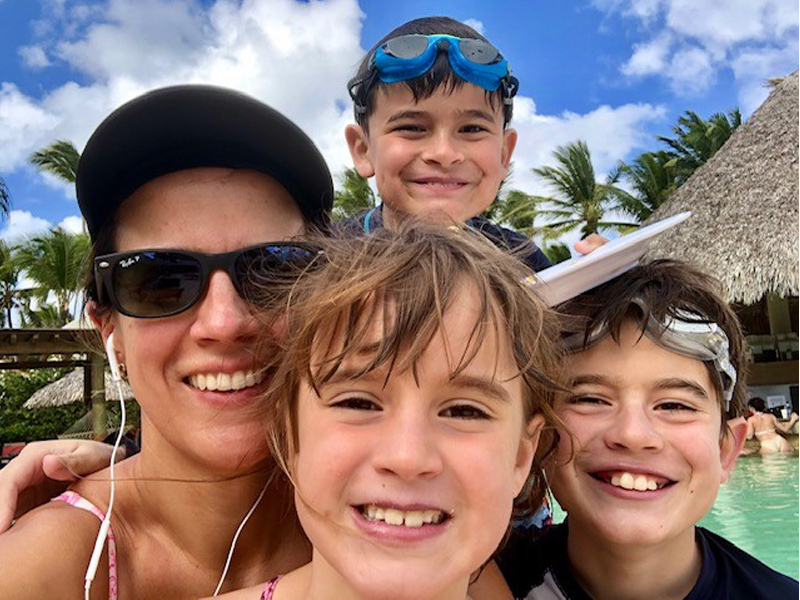 How does the Innovators Program mesh with your personal and professional life?
As parents, we want our kids to be aware that not every child or family has the same luck, and giving back is important. Kids learn by watching, and the hope is that this then translates into them also taking action. When we talk with them about the projects underway, their curiosity and questions are endless.

Professionally, I'm in the financial services sector. My firm specializes in holistic and comprehensive financial planning, and philanthropy is part of the conversation. Being involved with SickKids allows us to walk the talk and also show our clients that we mean what we say and we know how to do it. Meanwhile, the solutions my firm provides and the conversations we have with our clients helped pave the path to my role on the Professional Advisory Council. These professional reasons complement my personal interest in and passion for the SickKids mission. In this sense, I think both the Innovators Program and Fashion Heals go well beyond my professional life.

---
I attended a S

ickKids event and it inspired me, so I became a volunteer...
Are there ways in which the Innovators Program has deepened your relationship with SickKids?
Absolutely! I have met wonderful doctors and families through the program. One case after the other is fascinating. Honestly, the work that is done at the hospital and the incredible care with which every single person at the hospital treats patients and their families is absolute magic to me. Between the foundation and the hospital, it's hard to pick... Ronnie is unbelievable. If you haven't met him, stop whatever you are doing and meet him.
Your involvement with SickKids extends well beyond the Innovators Program. Can you tell us about the other initiatives you're part of?
Back in 2015, Fashion Heals came to life. A friend and I started it and had 80 people in the first year. Last year, we had over 650. The event has gone from 10 volunteers to 85 last year. We've raised roughly $500,000 since inception, and we fund Innovation Grants in cancer and more recently in mental health research. We signed up for the SickKids VS Limits campaign and committed to raising at least $1 million. Halfway there!

Fashion Heals is considered a third-party event under the Activators umbrella. The event is built around a fashion show that is not a fashion show in the traditional sense because none of the models are professional models. Instead, they are kids, doctors, staff and family members who have a story with SickKids. Each "model" is professionally styled for the night (hair and makeup too!). We tell their story, and they get to walk an official runway. It's a wonderful way to help the models – and especially the kids – feel special that night.

One of our models once said: "You know, when I had cancer, I lost my hair and was bullied in school. Kids didn't know what was happening. But tonight is special. I feel special. I am beautiful and powerful and ready to rock that runway!" Needless to say, every year keeps getting better and better. The relationships we build with our models and their families are unbelievable. We stay in touch with most.

If any Innovators member would like to have their child or themselves model for the night, we would love that! Obviously, we are on hold now given Covid-19, but we will be back!

I was also briefly involved with the Peanut Allergy initiative. Our kids are allergic to a few things and wanted to help there too. However, with dates shifting, I found myself with competing demands, and Fashion Heals needed my full attention.
What advice would you give others who want to introduce their network to SickKids and the Innovators Program?
Honestly, just invite them to one or two of the events. Host an event at your house (when Covid permits, of course!) or do it online. It's one of those things that you have to experience in order to understand what it's all about.
This year has seen a big shakeup of everyday life with the Covid-19 pandemic. What are some things you and your kids do to stay connected and mentally positive?
We are very fortunate. We have had the ability to stay physically active outdoors. We keep the conversation at home positive, and the negative news is just left out. It's easy to go down a negative path, and that serves no one.

As soon as day camps were open this summer, we signed the kids up for baseball. Are they strong baseball players? Nope! But at least that got them out of the house. Same with golf. Out, out, out! Having siblings helps too – there's always someone to play with (and fight with... that too!). I wouldn't say we pretend nothing is happening. That's impossible. However, we just keep going, put routines in place, and just get creative with physical activity and "social virtual" interaction. Mind you, we are ready to throw all iPads out the window.
What are your favourite take-out spots in the city?
Well, that depends on who is eating, as the kids' allergies can make things tricky. Our go-to is Just Greek, a family-owned Greek restaurant in Etobicoke. Their beef souvlaki dinner (just salad!) is to die for. We also love Planta, Eataly, Alo and Aloette, and we've recently been discovering little places in the Annex. There's also a tiny deli on Bay that has a delicious smoked salmon bagel, but that one is a solo meal for me as salmon and sesame are both big no-nos for my kids.


Any Netflix recommendations?
Oh, so many! I haven't watched so much TV in years! Money Heist for sure, although it's in Spanish – the translation is good, but you lose a bit of the dry humour. Ozark (the next season can't come soon enough!). Shameless for humanity gone wrong with humour. Offspring, Mandalorian, Queen's Gambit, Lupin. I recently started Call My Agent. However, once the cold weather is gone and things start returning to normal, Netflix will have to wait... I'm going out!