SickKids Innovators Q&A: Nicol and Rodrigo Domingues
What brought you to SickKids? How did you first get involved with the Innovators Program?
We have always been passionate about children's health, but once we had children of our own and began relying on the incredible services at SickKids, particularly the Allergy Clinic, we felt it was important to increase our involvement with the hospital. We began as monthly donors, but quickly felt a need to connect further and learn more. When we were introduced to the Innovators Program we were immediately drawn to the program's mission to engage the next generation of philanthropists and it aligned with our desire to give back.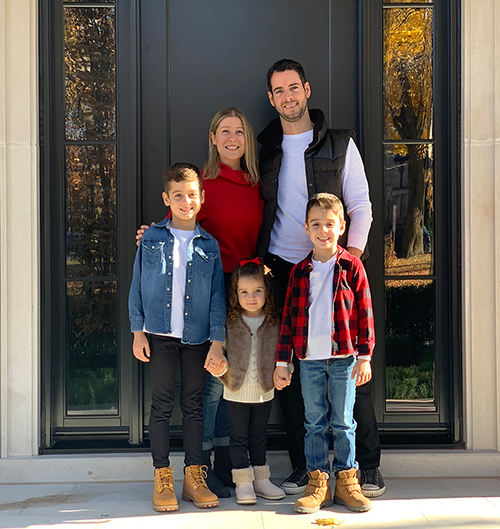 How does the Innovators Program mesh with your personal and professional life?
We encourage our children to be selfless in their endeavours and help support those around them. For us volunteerism is not merely giving our time to important causes, it is contributing directly in an altruistic way to the betterment and well-being of people in our community. It is vital for us as parents to raise civic-minded children who understand the value of helping others. Being an Innovator allows us to support a cause we are passionate about and lead by example for our children. The Innovators Program has also allowed us to build relationships with like-minded individuals. Over the last few years, we have welcomed the opportunity to share ideas and collaborate on projects to fund.
---
"The up-close access to doctors, patients and their families has given us a new appreciation of the many areas in the hospital in need of support."
Are there ways in which the Innovators Program has helped deepen your relationship with SickKids?
Our involvement with the Innovators Program has given us a better understanding of all the incredible initiatives SickKids offers to our community. Through panel discussions and behind-the-scenes access to the doctors and their research, we appreciate what is required to continually deliver exceptional medical services to children in need. Thanks to the program, we have also been able to volunteer in ways which might otherwise have been unavailable to us. Some notable pre-pandemic opportunities included trick-or-treating and story time in the hospital, where we were able to connect with patients and their families. Thanks to these meaningful experiences we find ourselves more connected to the hospital than ever before.
Are there certain key learnings you have taken away from the Innovators program?
Through our involvement with Innovators we have come to understand the importance of being engaged. The up-close access to doctors, patients and their families has given us a new appreciation of the many areas in the hospital in need of support. Whether donating time or funds, we see the value of being Innovators. We have also learned to appreciate the importance of having a hospital like SickKids focused on paediatric healthcare. SickKids leads the way in cutting-edge treatments and research to help improve the lives of many children living with illnesses. An institution like SickKids is vital to the lives of so many children and their families.
This year has seen a big shakeup of everyday life with the Covid-19 pandemic. What are some things your family does to stay connected and mentally positive?
Connecting with our family and friends is important to us. With so many loved ones abroad, and an inability to travel, we have relied on virtual platforms to keep in touch with family and friends both near and far. The pandemic has also encouraged outdoor socially distanced park meet-ups with friends. This time outdoors, often engaged in physical activities, has been critical to our mental health. Throughout the summer and early fall months, you could often find our family at basketball courts, soccer fields and tennis courts to keep active.
How have you and your kids changed up your routine lately?
We are definitely living life at a slower pace than pre-pandemic times. We have used this period of social distancing to enjoy family connection and indulge in more movie and popcorn nights and pancake mornings with the kids. The safe return to school this past September saw yet another change in our routine. Our children are thrilled to be back and are benefiting from the socialization with peers and teachers. We have been able to return to some sense of normalcy with our day-to-day schedule even though the landscape is vastly different.
What are your favourite take-out spots in the city?
Any sushi dinner is well-received at our house, but pizza and pasta from Terroni is a family favourite. If it were up to our children, we would be ordering from there a couple of times a week!


Favourite TV shows or movies you have watched lately?
Watching sports is always a highlight at our house. Whether it's catching the NBA Finals or tuning in to Premier League matches, it's an opportunity for our family to spend time together and cheer on our favourite teams. As for series, we recently enjoyed watching Succession and Money Heist.