SickKids Innovators Q&A: Jacqueline Prehogan and Isaac Langleben
How did you decide to launch your company? And what were your biggest learnings?
I have always been a lifelong animal lover (or better said, a "crazy dog lady") and hoped to build a career around animals. In 2010, Isaac and I adopted our first rescue dog, a Puggle named Bella. Being parents to Bella inspired us to pursue a business in the pet industry, and we noticed a market whitespace for fashionable and functional, branded pet apparel, which led us to start our first business Canada Pooch.

Around the same time, Isaac and I had been changing the way we thought about food after becoming concerned about the way farm animals were treated in conventional farming. We began to look for better sourced ingredients with higher ethical standards, and naturally wanted to start feeding our (now three) pugs the same way. We searched high and low but couldn't find any pet food options with the standards we were looking for, so we decided to create it ourselves with Open Farm.

It has been an amazing ten years since we started our first business, and we have learned too many lessons to count through the ups and downs of business. One of the biggest lessons we have learned and stuck by is that you can do the right thing in business and be successful. In fact, doing the right thing can truly help you be successful. We all make so many decisions in any given day, around products, people, strategy, etc. and making those decisions with integrity and guided by a mission to do good through our work has helped us succeed and enjoy what we do.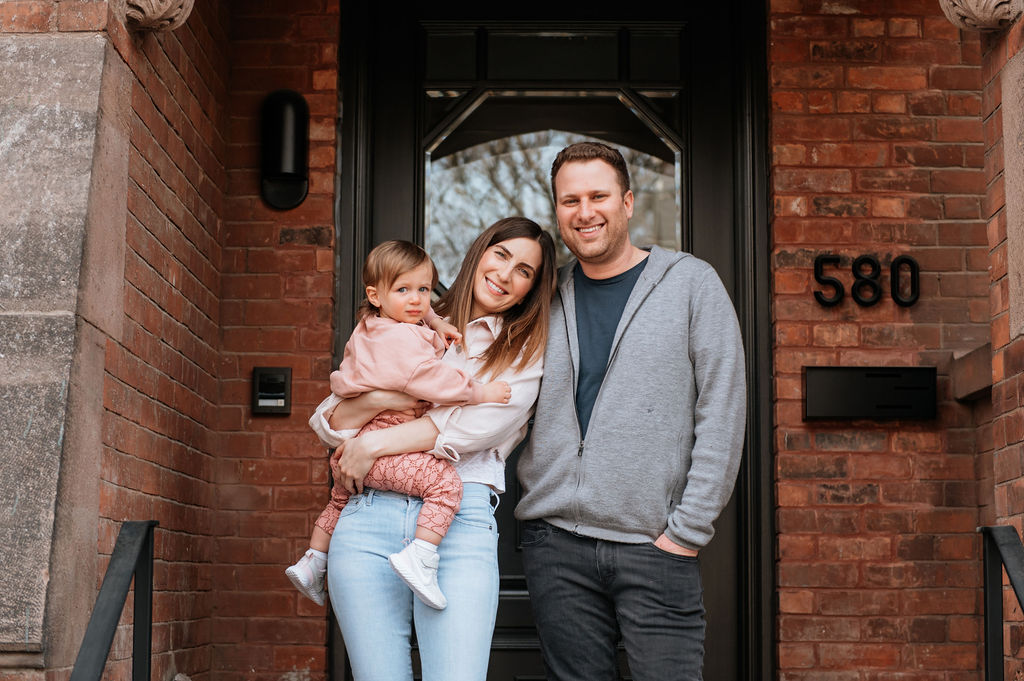 ---
...doing the right thing can truly help you be successful
COVID-19 has caused a lot of changes to regular life, what are some of the things you do to keep engaged & in a positive headspace?
Like everyone, Covid has been a challenging time, but there have been silver linings as well. It's been amazing to be able to work from home and spend so much more time with our daughter that we otherwise would have missed. We have been able to see so many special moments and changes and firsts.

We try to be outside as much as possible – lots of walks with the dogs and time doing outdoor activities. We managed to spend a lot of time with family through the pandemic by bundling up and hanging together outside in rain, snow or shine. Isaac is also a great cook and has been upping his game, so we have been eating well!

How has becoming new parents changed your relationship & your perspective towards SickKids?
Becoming new parents has given us a profoundly different perspective towards SickKids. I had spent a lot of time at SickKids as a young child and received excellent care there, so there was never any doubt that it is such a critical pillar of healthcare in Toronto and Canada.

However, becoming parents made us realize that in life, the number one most important thing that we care about is the health of our daughter. All we want is for her to be happy, healthy, and thriving. We recognize the massive difference that SickKids makes in the lives of children and their parents, and we hope to continue growing our relationship and support over time.

What do you enjoy the most about the Innovators program?
We have really enjoyed getting to learn about the incredible innovation and advances across such a wide variety of areas at SickKids. It is so rewarding to see such meaningful projects receive funding through the Innovators program and to be a small part of that process.

What advice would you give to someone who wants to start their own company?
Try to start your business with a clear vision of what you want to build. From Day 1, establish a strong set of values within your organization, and build a team of people who align with those values and believe in what you are trying to build. Being passionate about your vision as an entrepreneur is so critical to help you keep going when you inevitably face challenges or failures along the way – persevering and pushing forward even when times are tough is so important to starting and succeeding in your own business.

If you were a dog breed, what kind would you be?
A pug of course! As a pug you relax all day, you don't care what anyone thinks of you, you relish every bite of your food, and you get whatever you want from your human parents with your big brown eyes, rolls, and snorts that no human on earth can resist. Perhaps that is why our pugs are so spoiled…