$2.3 million raised at The Canaccord Genuity Great Camp Adventure Walk
Today, more than $2.3 million was raised by 3,000 participants, sponsors and volunteers at the fifth annual Canaccord Genuity Great Camp Adventure Walk presented by Sport Chek to benefit The Hospital for Sick Children (SickKids). Participants challenged themselves to walk up to 20 kilometres, starting and ending at Fort York. This camp-themed fundraising event is the only one of its kind in Canada.

Following a heartfelt opening ceremony at Fort York, corporate teams, hospital staff, families and individual registrants – many accompanied by their dogs – departed from Main Camp at 9 a.m. and walked through the streets of downtown Toronto, stopping at seven pit stops (campsites) along the way to enjoy camp-themed activities. After choosing their own adventure at each campsite, participants were celebrated as they crossed the finish line for the distance they walked while raising critical funds for SickKids.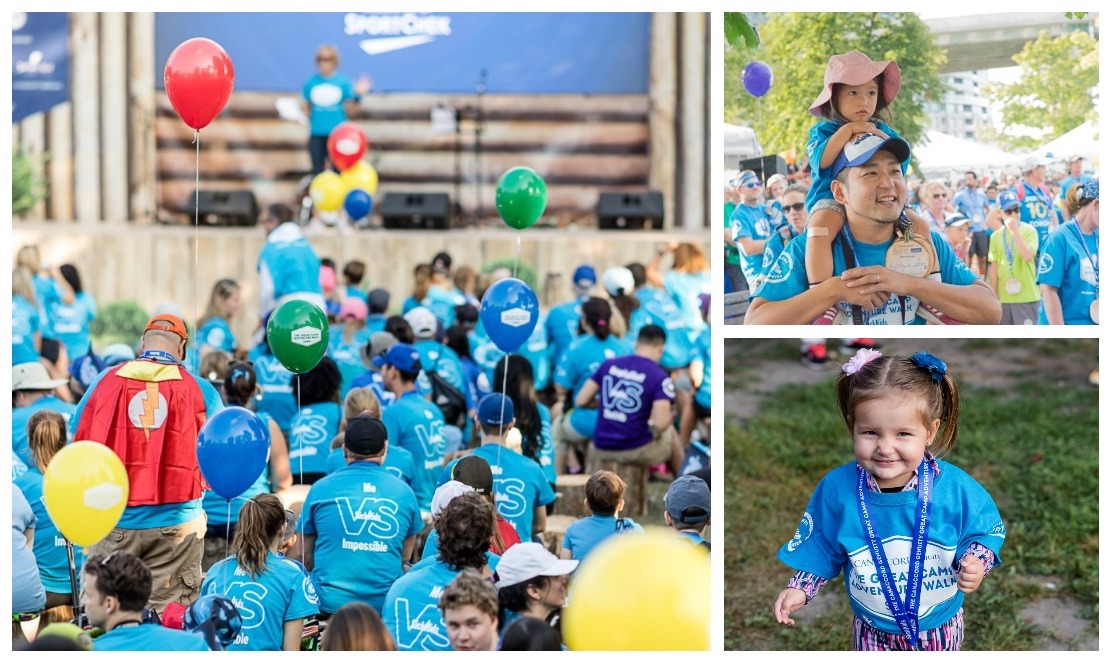 "Now in its fifth year, this event generates more excitement, participation and fundraising than ever before. We are especially proud to see the community challenge and support each other through a day of fun-filled adventure," said Ted Garrard, CEO, SickKids Foundation. "Without returning sponsors including title sponsor Canaccord Genuity, presenting sponsor Sport Chek and our media partner, Bell Media, the event would not be the memorable day that it is for our participants every year."
---
More than $2.3 million was raised by 3,000 participants, sponsors and volunteers at the fifth annual Canaccord Genuity Great Camp Adventure Walk presented by Sport Chek.
Canaccord Genuity is the inaugural title sponsor of The Great Camp Adventure Walk and is proud to support this event which has raised a total of $10 million since 2013.

"We have accomplished a great deal in our five-year partnership with SickKids and we look forward to seeing this event and the benefits it delivers continue to grow," said Dan Daviau, President & CEO of Canaccord Genuity Group Inc. "On behalf of everyone at Canaccord Genuity, I'd like to thank the organizers, participants and volunteers who have joined us for this adventure, as we help improve the future of children's health."

Presenting sponsor, Sport Chek hosted a campsite outside the hospital on Elm Street, where participants had the opportunity to meet athletes, Derek Livingston - Snowboard 2014 Olympian, Calynn Irwin – Canadian Champion, Halfpipe Snowboarding, Brad Bowden - Four time Paralympian in Para Ice Hockey and Wheelchair Basketball and Komak, Canadian Olympic Committee (COC) mascot.

Additional sponsors for this year's event include PetSmart Charities of Canada

TM

, Sobeys Inc., Domino's Pizza of Canada Ltd., Muskoka Bear Wear, Global Furniture Group, Sole Power Productions, Food Dudes, Camp Connection General Store, CoCo Bubble Tea, V.J. Pamensky Canada Inc., Panera Bread and Safari Kid. SickKids Foundation thanks all individuals and organizations who contributed to the day's success.

Funds raised through this event go to SickKids Foundation to support its highest priority needs. With unrestricted donations, SickKids Foundation has the ability to respond quickly with flexibility to fund areas such as research, clinical advances or compassionate care. Unrestricted gifts to SickKids Foundation are the best way for donors to ensure the best possible outcomes for kids, now and in the future.