The Government of Ontario invests $2.4 billion to build the SickKids of the future
The Hospital for Sick Children (SickKids) has received a commitment from the Government of Ontario of up to $2.4 billion to build a world-class state-of-the-art facility for patients and families. This historic and significant investment will enable SickKids to deliver leading-edge care to the most critically ill children in Ontario for generations to come.

"This remarkable investment will take us one very large step closer to our goal of building a reimagined SickKids of the future – poised to provide the most modern, innovative and safe care to help bring hope and comfort to families who face serious illness and injury," says Dr. Michael Apkon, President and CEO. "Thank you, Premier Wynne, for putting your faith in us – in SickKids – and recognizing the real need. We won't let you down and we won't let Ontario's children down."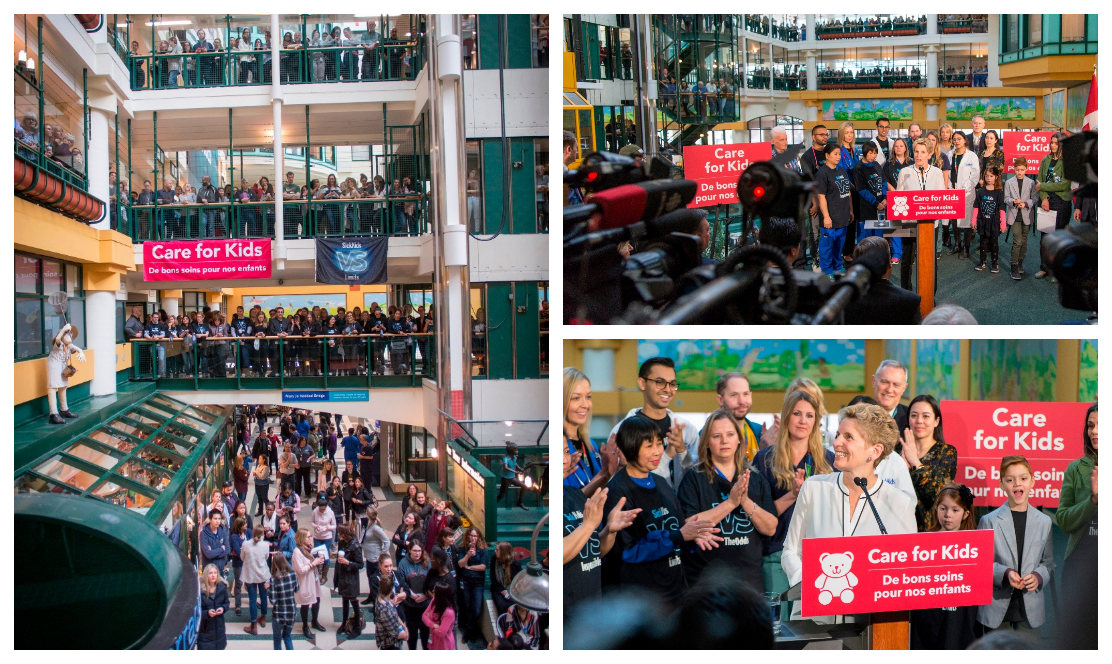 Kathleen Wynne, Premier of Ontario, along with Dr. Helena Jaczek, Minister of Health and Long-Term Care, and Charles Sousa, Minister of Finance, announced the government's tremendous investment into child health at SickKids today.

"As any parent knows, when a child is sick nothing else matters. The incredible physicians, nurses and staff members at SickKids understand that. What they do for families every day is extraordinary," said Premier Wynne. "We have to make sure they can provide the world's best care to every child who comes through these doors. That's what this historic investment in SickKids is all about, and it's why we're building new and improved hospitals around the province."


---
"This remarkable investment will take us one very large step closer to our goal of building a reimagined SickKids of the future."
Population growth and increases in medical complexity have driven a high demand for space and put pressure on existing facilities at SickKids. To keep up with demand and plan for the future, SickKids has proposed the construction of two new buildings and renovations to existing clinical facilities. Areas in need of crucial infrastructure renewal include a new emergency department, neonatal intensive care units, critical care units, bone marrow transplant unit and mental health units.

Dubbed "Project Horizon", the redevelopment plan would build an inspired, re-imagined hospital of the future that will transform the experience of patients and their families, enable the delivery of cutting edge care, and ensure sufficient service capacity. A revitalized SickKids will also attract more of the world's top clinicians and researchers to join SickKids in our fight against childhood illness and disease.

This is good news for patients like Hunter Kemp, who was diagnosed with acute lymphoblastic leukemia (ALL) in 2009 at the age of two. After four years of treatment at SickKids, Hunter went into remission in 2013. Today, he still visits the Hospital frequently for follow-up appointments and to give his input on hospital operations at Children's Council meetings.

"This funding is not just about a fancy new glass building to match the other hospitals on University Avenue," said Sitara de Gagne, Hunter's mother. "To me, to our family, to the thousands of families who have found themselves wandering these halls in the middle of the night, this is about hope. This is about possibilities."

The government's investment will go towards the design and building costs of the Project Horizon redevelopment plan, which is expected to undergo construction beginning this fall. Additional funds are needed to see Project Horizon to fruition and are being raised through philanthropy.

"Thanks to more than 500,000 donors, we have already raised more than $600 million, putting us almost halfway to our overall fundraising goal," said Ted Garrard, CEO, SickKids Foundation. "We hope the provincial government's investment will inspire our community to join us in reaching our goal of $1.3 billion in private philanthropy."

The SickKids VS Limits campaign was launched in October, 2017 and is expected to run through to March 31, 2022. It is the largest fundraising campaign in Canadian health care history. To donate to build a new SickKids and support the other key elements of the campaign go to fundthefight.ca.


About The Hospital for Sick Children
The Hospital for Sick Children (SickKids) is recognized as one of the world's foremost paediatric health-care institutions and is Canada's leading centre dedicated to advancing children's health through the integration of patient care, research and education. Founded in 1875 and affiliated with the University of Toronto, SickKids is one of Canada's most research-intensive hospitals and has generated discoveries that have helped children globally. Its mission is to provide the best in complex and specialized family-centred care; pioneer scientific and clinical advancements; share expertise; foster an academic environment that nurtures health-care professionals; and champion an accessible, comprehensive and sustainable child health system. SickKids is proud of its vision for Healthier Children. A Better World. For more information, please visit www.sickkids.ca.