EXTRA LIFE VS LIMITS
We've got a fight. And you, gamers, are our army. Extra Life unites thousands of players around the world to host fundraising and gaming marathons in support of local Children's Miracle Network hospitals, like SickKids. You can play any game from anywhere, anytime, or you can join us for our official community Game Day, November 4th! Click here to register for free!
Join our Extra Life Guild!
Interested in doing a bit more for Extra Life & SickKids? Why not join our Extra Life SickKids Guild; a group of gamers who volunteer their time to amplify the message of Extra Life in the gaming community. Check it out on Discord.
To date, Extra Life Gamers have fundraised over $3.5 million for SickKids. Thanks to the help of their incredible contributions, SickKids is able to deliver the very cutting edge of what is possible in care; break through with research that benefits patients today; and build partnerships to improve care for more children—here and around the world.
Download Free Creator Toolkit
We've created a SickKids creator toolkit to help you generate hype for your Extra Life Game Day livestream. The package includes:
Official "SickKids VS" Streamlabs donation alert

Twitter conversation starters

Instagram Story graphics to help you spread the word
Tag @sickkids on Twitter and @sickkidsvs on Instagram to tell us where you're droppin'.
Have questions or need help? Reach out! ExtraLife@SickKidsFoundation.com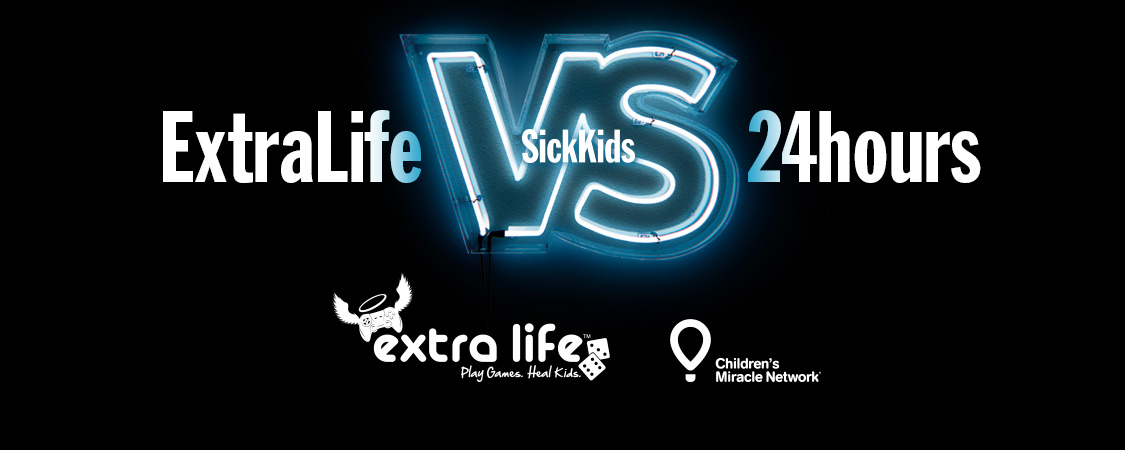 FREQUENTLY ASKED QUESTIONS
How do I participate?
Sign Up: Pledge to play games from your home, online or with friends.
Fundraise & Recruit: Ask your family and friends to donate to your fundraising and recruit others to join your team.
Take on the challenge: Play video games, board games or whatever you put your mind to for a full 24 hours to help fund the fight at SickKids.
How can I stay connected to the Extra Life Community?
Stay up-to-date in the SickKids gaming world by checking us out on Facebook at Extra Life Toronto or join the conversation on Discord by clicking here.
TAKE ON THE 24 HOUR CHALLENGE
See why gamers across the GTA on taking on the 24 hour challenge to help SickKids.